Crazy Dogs
Wishing to Die
On the 21st of June 1997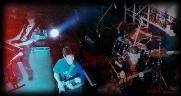 the Crazy Dogs Wishing to Die took to the stage at the Warwick University end of year Band Society gig. They had been formed a week earlier by Seventh Hour guitarist Marcus Taylor in a defiant response to the cancellation of three gigs he had lined up to mark his departure from the university for a year.
The band was to be an all-star cast of instrumentalists who would improvise over a loose outline of three pieces - All Along The Watchtower, Blue Jean Blues and Black Magic Woman. In the short time between the band's conception and the gig there had been no time to find a vocalist so Marcus reluctantly took on lead vocal duties in addition to his guitar playing which seemed to give him something extra to prove on his lead breaks.
The first few minutes of playing was rather tentative. The monitors weren't balanced very well, the band had only one practice under it's belt and the bass amp was shot - it wasn't the ideal situation to inspire confidence. Then as Marcus drew to the end of the last verse, frustrated by having to sing and not being able to play lead at the same time, he let rip with a fiery solo which was greeted by rapturous applause from the audience. After that, the band relaxed and played. After the second warning from the stage crew that they had gone way over their allotted time they finally bowed out having played much extended versions of their songs.
The Band
| | |
| --- | --- |
| Marcus Taylor | Guitar and Vocals |
| Ben Bell | Keyboard |
| Pat Hogan | Bass and Trumpet |
| Ashley Ward | Percussion and Drums |
| Leon | Drums and Percussion |
| Paul Wheeler | Sax |
Audio Clips of the Crazy Dogs
---
Back to Ben's Music Pages